The Google Chrome is curiously missing a straight forward screenshot function like the one you'd find on Firefox. There's a built in screenshot feature in the developer tools section.
To get there, make sure you have whatever you need on the browser page ready. Then follow these steps:
Ctrl + Shift + I (Cmd + Option + I on Mac).
Ctrl + Shift + P (Cmd + Shift + P on Mac).
Then type the word screenshot.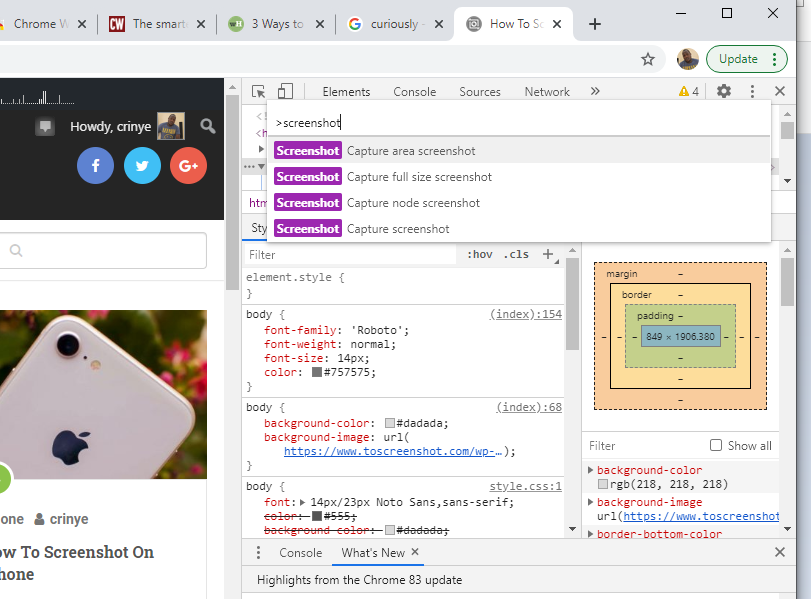 You'll see options to screenshot either the whole page, the visible part or an option to capture a specific section.
The screenshot will then be taken and downloaded for you in the PNG image format.
Device Screenshot Function
The method above is obviously not ideal and not fast enough. You can also take screenshots on Chrome by placing the browser in the foreground of your Computer, Mac or smartphone and then taking a normal screenshot of your device.
The problem with this is that, sometimes the entire page cannot fit on the screen of your device. So unless you have the scrolling screenshot feature on your device, you might need a third party.
I've used Full Page Screen Capture chrome extension to take full page screenshots in Google chrome for a few years now. It's consistent and reliable and gives you screenshot in PNG image format.